Do you like what we are doing! Then you can be a partner, motivator or even mentor in the endeavor to realize humanity's greatest dream of manned mission to Mars. Mars colony cannot be built by a single nation or a company. Human settlement on Mars would need all possible co operation from every Space faring nation including private enterprises, universities, educational institutions and even individuals!
Mars Home-Base acts as a channel by providing a common platform and brings together like minded individuals and institutions to work in a unified – result driven fashion. This achieves two objectives, first being a platform provider and second being project management which avoids duplication of work and program coordination. Besides Mars Homebase also manages finance needed to run these projects.
Mars HomeBase does not differentiate between donors. For an endeavor like this, Every dollar counts! Every rupee counts! Please plan to contribute generously. Our Bank details are as follows
Name of the Bank: Bandhan Bank
Account Name: MHBO FOUNDATION 
Account number: 1022 000 4251 321
Branch: Chandra Layout, Bangalore, India.
IFSC Code: BDBL 000 1751.
Direct contributions can be made safely here on RazorPay link or by pressing button below.
Or you can make direct payment through following QR code.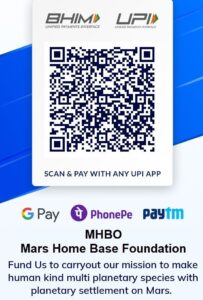 Tax Exemption on Fund Contribution to Mars Home Base Organization
Tax exemption on fund contribution to Mars Home-Base Organization.
Mars HomeBase organization will not be providing any tax exemption certificates to donors. Donors cannot claim income tax exemption on donations made to MHBO Foundation. This is intentional as we do not want to take the blame that Space Technology is being developed while poverty still runs in the country. In spite of huge indirect benefits reaped by society out of Space Technology, there is still significant perception in the minds of people that pace exploration as a fantasy and burden for a developing country. Therefore, we do not want to claim tax exemption on our activities. We hope our donors will respect our point.
 All financial activities of Mars HomeBase are duly audited as per Indian rules and regulations for operations in India by certified chartered accountants and auditors.
Cautionary Note on Funds transfer or Direct Contribution
We have only one bank account number. We do not have multiple bank accounts.. Please double check account number and account name while transferring funds.
We do not advertise on other websites or channels asking for funds.
We do not authorize any one to collect funds on behalf of us.
All funds are deposited by Cheque or online electronic transfer like Wire transfer, RTGS/NEFT transfer, Google Pay or UPI transfer, credit card or debit card payments to above account.
All financial activities are duly audited as per Indian rules and norms for operations in India

Contribution through Sponsorship
If you are an organization or institution then you can sponsor a project or activity being performed by Mars Homebase. Advertising details and use of this sponsorship in customer's own marketing needs can be arranged matching the sponsor's requirements.

Contribution through Equipment
If your institution or organization have spare hardware available for us to use in our experiments, we are more than happy to take them. Please communicate with us if you are willing to contribute equipment to us.

Contribution through developer in engineering solutions
People with Science or Engineering background and  willing to work and develop solutions either working remotely or on site at our facilities or our partner facilities can opt for this program 
You can explore our part time development program where you can work from home. Area of expertise needed are software development, software maintenance, remote CAD design work. PCB design, mechanical engineering, civil, construction engineering, biology, minerology or any expertise in science, engineering and technology. 
Please contact us for more details.
Contribution through Volunteer program
People who can opt are any one with or without science and engineering background. Volunteers who are interested in promoting development of Science and Technology for use on Mars can help increase awareness about opportunities and importance of our activities.
Help spread the message
Help in raising funds
Education and training programs.
Would you like to work part time? If yes, then you can explore our part time development program where you can work from home. Area of expertise needed are software development, software maintenance, remote CAD design work. PCB design, any expertise in engineering and technology. Please contact us for more details.